Home /
Kevin Sumlin: Grading the Texas A&M Hire
A statistical look at Texas A&M's hiring of Kevin Sumlin.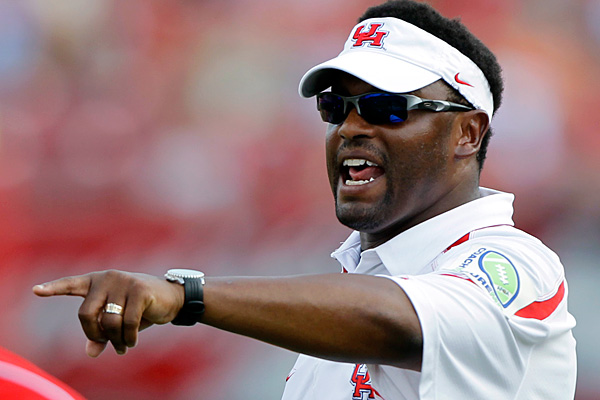 -by CoachesByTheNumbers.com
It appears that Texas A&M has found itself a new head coach with the announcement that Houston's Kevin Sumlin will be taking the reigns of the Aggies next season. Sumlin replaces Mike Sherman, who served as the Texas A&M head coach for last four years, compiling a 25-25 record.
Under Sherman, Texas A&M's identity was one in which a lot of points were scored, little defense was played, and very few close games were won. In Sherman's four years, the Aggies averaged 32.2 points per game offensively, but A&M also gave up 30.4 points per game on the defensive side of the ball. To make matters worse, Sherman was 2-7 in games decided by four points or less.
With the firing of Sherman, the Aggie brass indicated that the numbers above simply weren't good enough. The powers that be decided they needed to hire a coach who could reverse some of Coach Sherman's trends. So what did they do? They went and hired a guy whose teams averaged 42.82 points per game offensively and gave up a whopping 29.06 points per game over the past four years. Sound familiar (for what it's worth, Sumlin was 4-4 in games decided by four points or less at Houston)?
According to our proprietary CBTN Best Head Coaching Job Ranking, Texas A&M is the 23rd best job in the nation (out of 120). The fact that Texas A&M is located in the talent rich state of Texas combined Texas A&M's great fan base, resources, and facilities makes it one of the better jobs in all of college football. Below is our By The Numbers analysis of the hiring:
#d8ceb6; padding: 4px; border-collapse: separate; border-radius: 10px; border: 1px solid white;" valign="top">
---
#6b5e50; background-color: #6b5e50; height: 2px; width: 99%; border: 0; margin: 3px;" />
Positives
As an offensive coordinator at Texas A&M in 2002 and Oklahoma in 2006 and 2007, Sumlin's offenses scored 30 or more points 57.50% of the time and 40 or more points 32.50% of the time. As a head coach, Sumlin's offensive numbers have only improved. In his four years at Houston, Sumlin's offenses have averaged 30 or more points 80.77% of the time, 40 or more points 59.62% of the time, and 50 or or points 28.85% of the time.
 
During his tenure at Houston, Sumlin won 68.48% of his overall games, 70.59% of his conference games, and won 10 or more games in two of his four seasons as head coach. In 2011, Sumlin led Houston to its first 12-win season in history.
 
Sumlin spent five years of his coaching career at Oklahoma under Bob Stoops, one of the best coaches in all of college football.
Negatives
Of the 16 games Sumlin coached at Houston with equal or inferior talent, he only won eight times (50.00%).
 
Sumlin's defenses at Houston gave up 30 or more points 48.08% of the time and 40 or points more 21.15% of the time. Additionally, Sumlin's defense ranked 90th or lower in scoring defense in three of his four years as a head coach.
 
Coach Sumlin is 11-13 against teams finishing the season with an over .500 record.
 
68.57% of Coach Sumlin's wins have come against teams finishing the season with more losses than wins.
Unknowns
In Sumlin's first two years at Houston, he had the deadly combination of Dana Holgorsen calling with plays and Case Keenum executing those plays. In 2010, Dana Holgorsen was calling plays for Mike Gundy at Oklahoma State and Case Keenum was having surgery on his knee. Houston finished the 2010 season with a 5-7 record. To be fair, Sumlin did play the season with his first and second string quarterbacks sidelined with injuries, so we can't be too hard on him. In 2011, Keenum, who began college in 2006, was back in the huddle at quarterback. We are not trying to take anything away from Kevin Sumlin's offenses, but it would have been nice to see him coach another season without Case Keenum.
 
Who will Sumlin hire as his defensive coordinator and will Kliff Kingsbury and/or Jason Phillips make the move to College Station?
 
At Houston, Coach Sumlin entered the playing field with superior talent (an average recruiting class rank 10+ spots greater than his opponent) in two out of every three games. This number is going to drastically drop at Texas A&M given the school's move to the most talented conference in college football. How will Coach Sumlin handle playing a much larger percent of his games with equal or inferior talent?
 
The average CBTN Star rating for active defensive coordinators in Conference USA is one star. The average CBTN Star rating for active defensive coordinators in the SEC is four. Sumlin had the best talent in Conference USA and was going up against some of the lower rated defensive coordinators in all of college football. How is he going to adjust to having mid-level talent and going up against some of the best defensive minds in the nation?
CBTN Conclusion
In 2012, Texas A&M will join the Southeastern Conference, the CBTN number one rated conference in college football. Specifically, the Aggies will be joining the SEC West, which includes Alabama, Auburn, LSU, Arkansas, Ole Miss, and Mississippi State. To say the very least, football life is about to get much harder for A&M (three of these teams have won National Championships since 2001). It is this move to the SEC that makes this a curious hire by the numbers.

There are certainly exceptions to the rule (see Bobby Petrino), but the SEC has traditionally been a conference where running the ball and stopping the run has been the key to success. In his four years at Houston, Sumlin's defenses got torched for an average of 195.6 yards per game on the ground. This fact makes it very, very important for Sumlin to go out and hire a top-notch defensive coordinator. Names like Mike Stoops and Jon Tenuta immediately come to mind. We can't overstate the importance of who he hires for defensive coordinator given his teams' defensive history against the run. Couple this with the fact that over the last two seasons Houston's offense only averaged 154.24 yards per game rushing could make for some uncomfortable Saturdays for Sumlin vs. SEC West opponents.
When we look at Kevin Sumlin, we like a lot of what we see. He has a nice resume and has shown a serious propensity to score points. However, as was stated in the introduction to this analysis, Texas A&M is one of the better jobs in college football and is about to enter the best side of the best conference in college football. At Houston, Sumlin coached a large percentage (66.67%) of his games with superior talent and faced some of the lower rated defensive coordinators in all of college football. Both of these things are about to drastically change.

Have you ever bought a company's stock based on a positive news story? What about after a company posts a nice set of quarterly earnings? If so, you have fallen prey to the What You See Is All There Is fallacy of the mind. Kevin Sumlin may be a rising star in college football, but the key word in that phrase is "rising". When we put together our list of recommended coaches for the Aggies, we did so with the thought process of recommending proven head coaches (we recommended six of these) and extremely accomplished defensive coordinators (we recommended two of these).

In our estimation, the Aggies have taken a risk that they simply didn't need to take with Coach Sumlin.
---
#6b5e50; background-color: #6b5e50; height: 2px; width: 99%; border: 0; margin: 3px;" />
Hire Grade
#444444;">C+