Boise State
COLLEGE FOOTBALL 2013 PRESEASON TOP 25
#11
| | |
| --- | --- |
| NATIONAL FORECAST | #11 |
| MWC Mountain Division PREDICTION | #1 |
HEAD COACH: Chris Petersen, 84-8 (7 years) | OFF. COORDINATOR: Robert Prince | DEF. COORDINATOR: Pete Kwiatkowski
After replacing several key players in 2012, Boise State is reloaded for another run at the top 10.
OFFENSE
Boise State has streamlined its offensive playbook to remove what coach Chris Petersen called "dead weight" accumulated during 12 seasons of Petersen as offensive coordinator (2001-05) or head coach (2006-12). The catalyst: A subpar offensive showing last season, when the Broncos averaged 30.2 points per game — the program's worst output since 1998.
The tweaks should work, given the returning talent. The Broncos have a returning starter at quarterback, senior Joe Southwick, and retained four of last season's top five rushers and six of the top eight receivers, statistically. The offensive line boasts All-Mountain West center Matt Paradis, third-year starting left tackle Charles Leno Jr. and veteran utility man Spencer Gerke, all seniors.
Sophomore tailback Jay Ajayi, a powerful runner who averaged 6.7 yards per carry as the backup last year, leads a young stable of running backs. Junior Matt Miller, who has 128 catches and 14 touchdowns in his first two seasons, tops a deep receiving corps that could get breakout seasons from senior Geraldo Boldewijn and sophomore Shane Williams-Rhodes. Sophomore tight end Holden Huff, who is 6'5", provides a mismatch over the middle.
Follow the top 25 on Twitter @AthlonSports and join the debate at #Athlon25.
DEFENSE
The Broncos have been so good on defense the past five seasons that's it's easy to assume the group will be terrific again in 2013. But that was the thought on the offensive side last year. Boise State lost three of its top four defensive tackles, all three starting linebackers and both starting cornerbacks. That exodus includes three All-Mountain West first-teamers.
Junior end Demarcus Lawrence could earn some All-America buzz. The former junior college transfer led the Mountain West with 9.5 sacks last season despite missing two games for a violation of team rules. He also was fifth on the team with 48 tackles and first with four forced fumbles. The other starting end was supposed to be Sam Ukwuachu, who had 4.5 sacks en route to Freshman All-America honors. However, he was dismissed from the team in early May. Senior returning starter Ricky Tjong-A-Tjoe leads the tackle rotation.
Junior linebacker Blake Renaud, a hard-hitting 249 pounds, should clog the middle. He's backed by two returning starters at safety, junior Jeremy Ioane and sophomore Darian Thompson.
Perhaps the biggest concern is at cornerback. Bryan Douglas tore an ACL last season and will have to work back into game shape during fall camp. The rest of the corners have joined the roster in the last year.
Key Player
Joe Southwick, QB – Southwick made steady progress in his first year as a starter, throwing for 2,730 yards and 19 scores. Expect the senior to thrive in his second season under center.
Demarcus Lawrence, DE – Led Boise State's defense with 9.5 sacks last season and will be counted on even more with the dismissal of Sam Ukwuachu.
Matt Miller, WR – Earned second-team All-Mountain West honors in 2012. Miller was Boise State's leading receiver with 66 receptions and five touchdowns.
Schedule
SPECIALISTS
The Broncos are looking for a kicker — again. Junior Dan Goodale, who missed the potential game-winner in 2011 vs. TCU, and sophomore transfer Tyler Rausa are competing. Senior punter Trevor Harman returns. But the most intriguing special teamer is Williams-Rhodes, the ultra-quick, 5'6", 158-pound receiver. He provided a key kickoff return in last year's bowl win and likely will return punts, too.
FINAL ANALYSIS
The Broncos should be much improved on offense and experience some growing pains on defense — a reversal of last season. Depth could be an issue, particularly on defense.
The key to the season might be how they start. Six of the first eight games are against 2012 bowl teams — and four of those are on the road. The Broncos will compete in the new Mountain Division of the Mountain West, where up-and-coming Utah State and always-tricky Air Force are their top rivals.
As usual, an undefeated run and BCS berth seem possible. Petersen, in fact, has lost a combined total of two games in four seasons with a returning starter at quarterback. But the margin for error may be small with new players providing much of the depth and so many tests on the road.
DOWNLOAD BOISE STATE WALLPAPER (CLICK IMAGE)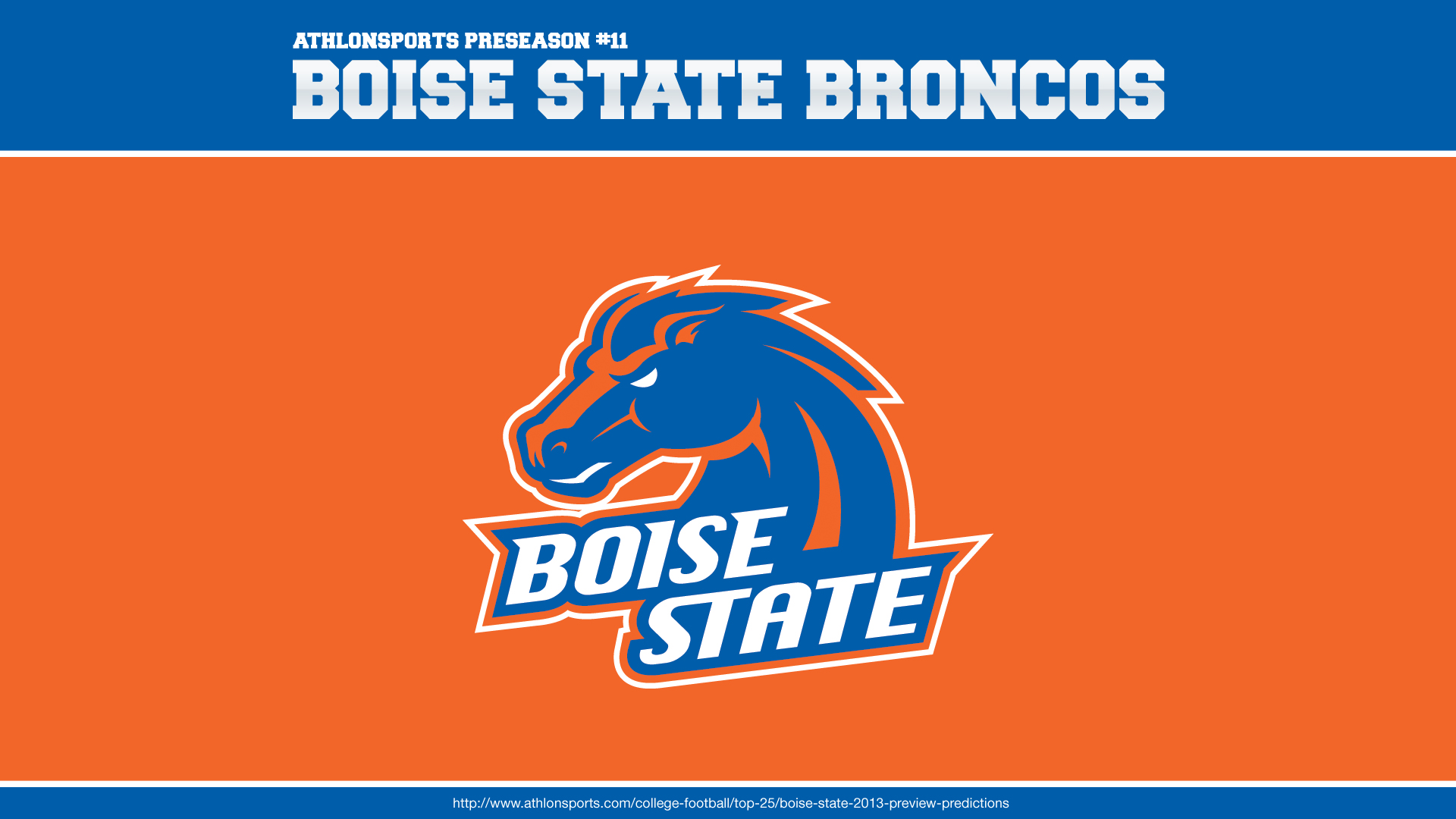 Want to win a poster-sized Athlon magazine cover of your choice? ENTER NOW!
The Debate
Boise State or Fresno State: Who Wins the Mountain West in 2013?
You Might Also Like