Fresno State
COLLEGE FOOTBALL 2013 PRESEASON TOP 25
#22
| | |
| --- | --- |
| NATIONAL FORECAST | #22 |
| MWC West Division PREDICTION | #1 |
HEAD COACH: Tim DeRuyter , 9-4 (1 year) | OFF. COORDINATOR: Dave Schramm | DEF. COORDINATOR: Nick Toth
Behind quarterback Derek Carr, Fresno State hopes to make a run at a BCS bowl.
OFFENSE
When Derek Carr announced that he was returning for his senior year, Fresno coach Tim DeRuyter must've let out a deep sigh of relief. The 2012 Mountain West Offensive Player of the Year ranked eighth nationally with 4,104 passing yards and possessed a sparkling 37-to-7 TD-to-interception ratio. And Carr did it playing through a sports hernia that required offseason surgery. He returned for spring practice.
Carr has his entire weapons arsenal back. Davante Adams exploded on the scene as a freshman to lead the Mountain West in receptions, receiving yards and touchdowns. Adams is a dangerous deep threat, while Isaiah Burse and Josh Harper man the slot positions. You'd have to look long and hard to find a deeper receiving corps.
The Bulldogs have work to do at running back to replace Robbie Rouse, their all-time leading rusher. BYU transfer Josh Quezada and Marteze Waller battled for the job in the spring, along with converted fullback Malique Micenheimer. Waller can really turn on the jets, but Quezada is better at pass protection and receiving.
Aside from All-Mountain West left tackle Austin Wentworth and right guard Cody Wichmann, the line won't be settled until fall camp. To bolster what was a glaring weakness in the Hawaii Bowl, DeRuyter signed four junior college transfers, something Fresno State hasn't often done.
Follow the top 25 on Twitter @AthlonSports and join the debate at #Athlon25.
DEFENSE
Anyone who doubts what a difference coaching and scheme can make should compare Fresno State game films from 2012 to those of the past. DeRuyter and defensive coordinator Nick Toth brought in an attacking 3-4 scheme that gave the Bulldogs a new identity, and there's no reason the defense won't be just as good or better despite the loss of All-America safety Phillip Thomas.
It starts up front, where All-MWC nose guard Tyeler Davison headlines a unit that returns all three starters and a key reserve and welcomes two junior college transfers expected to hit the ground running.
There's depth at linebacker, too, even though pass-rusher Donavon Lewis might be the only returner who keeps his starting job. Kyrie Wilson, moving inside to take over Travis Brown's old weak-side position, will take on the most new responsibilities.
All-Mountain West free safety Derron Smith, who had six interceptions last season and was the team's second-leading tackler, heads a secondary that also returns both starting corners. Charles Washington, the backup free safety, converted to strong safety during spring practice and made such a strong impression that the job looks to be his.
Key Player
Derek Carr, QB – Threw for 4,104 yards and 37 scores last season. Carr is on the radar for the NFL in 2014 and is the Mountain West's No. 1 quarterback.
Davante Adams, WR – Emerged as Derek Carr's No. 1 receiver as a redshirt freshman in 2012, catching 102 passes for 1,312 yards and 14 touchdowns.
Derron Smith, S – With safety Phillip Thomas departing, Smith will anchor a secondary that finished second nationally against the pass in 2012.
Schedule
SPECIALISTS
It's been a couple years since the Bulldogs had a scholarship placekicker. Freshman Colin McGuire will take over as soon as he gets his dorm key. Garrett Swanson, who handled kickoff duties last fall, is the new punter. Fresno State ranked in the bottom half of the league in both punt and kickoff returns — something that shouldn't happen with its array of talent at the skill positions.
FINAL ANALYSIS
What a difference a year makes. DeRuyter came in and turned things around so quickly that there were whispers he might already be headed to greener pastures. Those rumors are sure to crop up again if this team fulfills its potential.
Fresno State should have a lethal passing attack — provided the revamped line can keep Carr upright — and a formidable defense. The schedule is favorable, too. The Bulldogs open at home against Rutgers, play a winnable non-conference slate and get nemesis Boise State at home during Mountain West play. Anything short of another league title would be a disappointment.
DOWNLOAD FRESNO STATE WALLPAPER (CLICK IMAGE)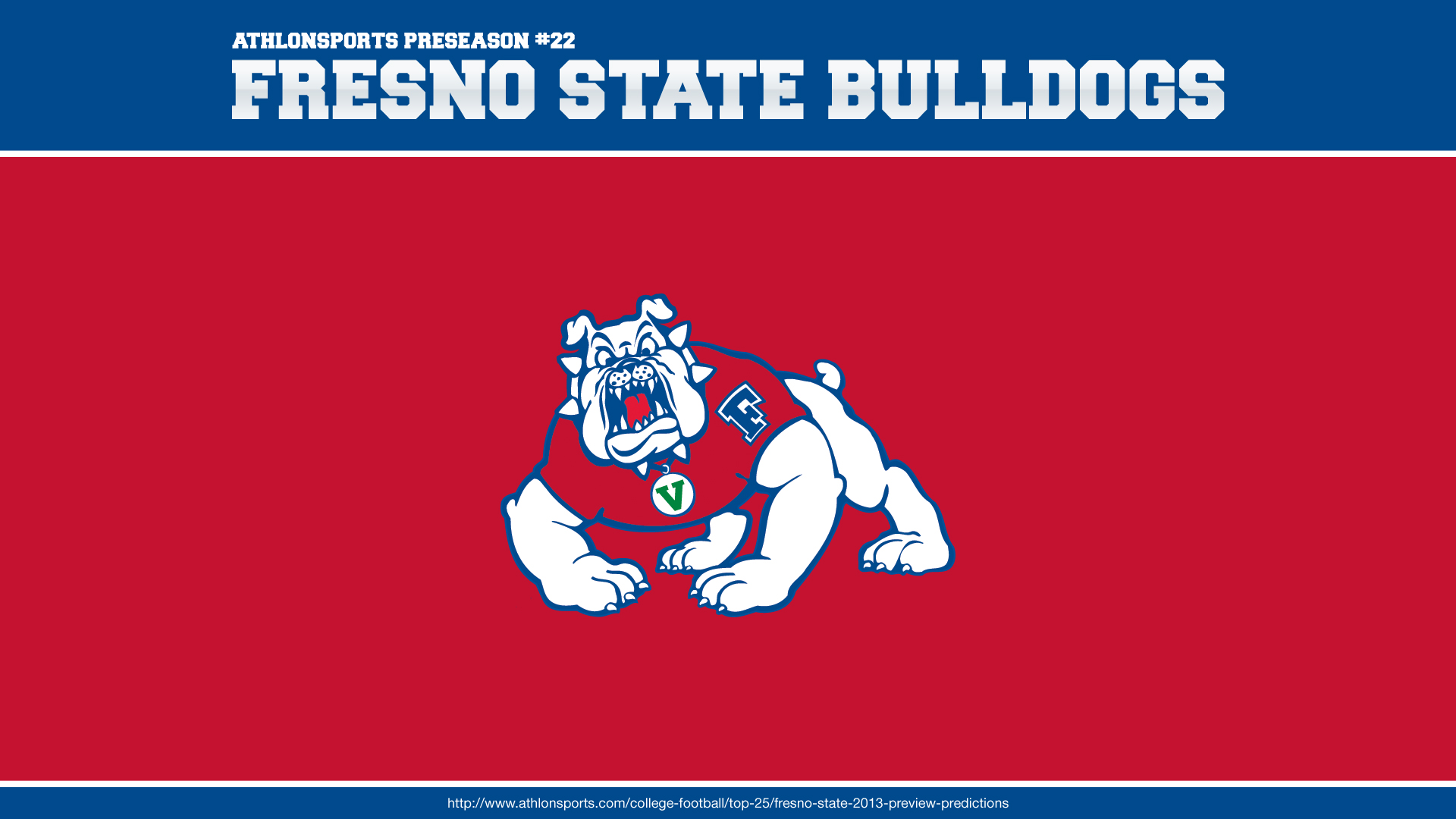 The Debate
Boise State or Fresno State: Who Wins the Mountain West in 2013?
You Might Also Like