Georgia
COLLEGE FOOTBALL 2012 PRESEASON TOP 25
#4
| | |
| --- | --- |
| NATIONAL FORECAST | #4 |
| SEC East PREDICTION | #1 |
HEAD COACH: Mark Richt, 118-40 (12 years) | OFF. COORDINATOR: Mike Bobo | DEF. COORDINATOR: Todd Grantham
The Bulldogs are Athlon's pick to win the SEC East in 2013.
OFFENSE
The best offense in Georgia history, at least statistically speaking, returns eight starters, including a fourth-year quarterback. It's hard to see how the Bulldogs could get better. But they could.
Aaron Murray's ability to put up big numbers isn't in question, and he played well enough against Alabama's stout defense in the SEC Championship Game to answer critics who claim he doesn't perform in big games. But Murray still needs to eliminate those brief stretches where he struggles, such as the three-interception first half that almost cost Georgia its win against Florida last year.
Tailbacks Todd Gurley and Keith Marshall (who combined for 2,144 rushing yards and 26 total touchdowns last year) need to avoid sophomore slumps, and they'll get increased attention from defenses. And the offensive line, which was average last year, needs to be good from the outset this year, with Georgia's front-loaded schedule. The Bulldogs may need their offense to carry them this year — and it's capable of doing just that.
Follow the top 25 on Twitter @AthlonSports and join the debate at #Athlon25.
DEFENSE
There's a lot of optimism around the Bulldogs about their young defense, but the fact is they still have so many playmakers to replace: Two-time first-team All-American Jarvis Jones, leading tackler Alec Ogletree, three-fourths of the starting secondary and almost the entire defensive line.
Four players who finished last year as starters return. One of them, sophomore outside linebacker Jordan Jenkins, could emerge as a star this year. Junior inside linebacker Amarlo Herrera and junior cornerback Damian Swann are also All-SEC caliber.
But the performance of the defense will hinge on the players who fill in the other roles. Josh Harvey-Clemons, a sophomore who rarely played last year, will see a lot of snaps at a hybrid Star safety/linebacker position. The nose tackle spot, so key to a 3-4 defense, will be filled by a committee. Safety Tray Matthews could become the first true freshman to start Georgia's opener since defensive coordinator Todd Grantham was hired in 2010.
It's not a defense without talent: Several years of good recruiting took care of that. The question is whether Grantham can mold this unit into a successful one soon enough for the team to survive Clemson, South Carolina and LSU — or whether Georgia will need to win a bunch of high-scoring games.
Key Player
Aaron Murray, QB – A fourth-year starter, Murray's set school records and some SEC marks, so now it's all about winning a title, and perhaps a Heisman.
Todd Gurley, RB – Broke Herschel Walker's record for rushing touchdowns by a freshman (17) and ran for 1,385 yards, first in the SEC among tailbacks.
Keith Marshall, RB – The other half of the "Gurshall" tandem was pretty good in his own right and averaged slightly more yards per carry (6.5 to Gurley's 6.2).
Malcolm Mitchell, WR – Once he moved back to receiver, Mitchell re-emerged as one of the team's top receiving threats.
Jordan Jenkins, OLB – Played significant snaps as a true freshman, finishing second on the team with five sacks, and looking like a future star.
Schedule
SPECIALISTS
Erratic hardly begins to describe Marshall Morgan's first season as Georgia's placekicker. He eventually settled down, but early in the season he missed three extra points, had another blocked and had several more ding off the uprights. But he also booted two field goals from over 50 yards out. Punter Collin Barber, also a freshman last year, was the direct opposite of Morgan, with hardly any shanks but also few memorable bombs, and less than a third were downed inside the 20. While the two kicking spots are set, the return specialist roles remains in flux. Malcolm Mitchell provides the most breakaway ability, but he also made some ill-advised decisions. Gurley had a 100-yard kickoff return for a touchdown in the opener, then hardly returned any kicks after that.
FINAL ANALYSIS
There's enough talent on this team for Mark Richt to take the program to the next level and win a national championship. But Georgia's schedule is much harder than it was last year, and with three potential top-10 teams in the first month, the season may be decided on two things: Whether the defense can start the season off at least being serviceable and whether the offense can be as good as last year. If the answer to both questions is yes, then the Bulldogs should be back in Atlanta in December, hoping the third time is a charm for winning the SEC title.
DOWNLOAD GEORGIA WALLPAPER (CLICK IMAGE BELOW)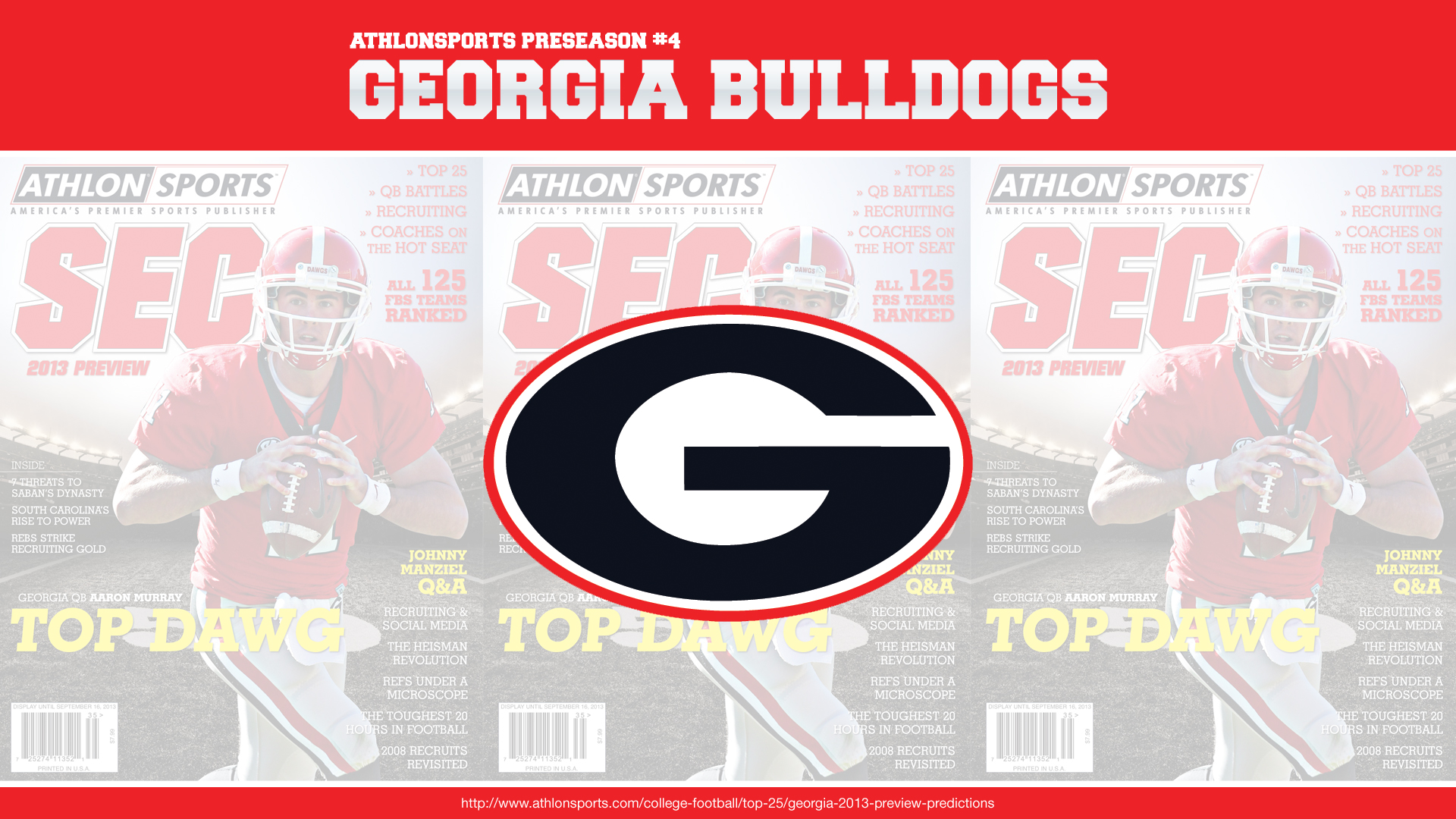 The Debate
Will Georgia have the SEC's best offense in 2013?
You Might Also Like