Louisville
COLLEGE FOOTBALL 2013 PRESEASON TOP 25
#9
| | |
| --- | --- |
| NATIONAL FORECAST | #9 |
| American Athletic PREDICTION | #1 |
HEAD COACH: Charlie Strong, | OFF. COORDINATOR: Shawn Watson | DEF. COORDINATOR: Vance Bedford
Louisville is an overwhelming favorite to win the American Athletic Conference in 2013.
OFFENSE
Charlie Strong ended spring practice by saying that he would not trade Teddy Bridgewater for Johnny Manziel — and nobody laughed. A creative playmaker, Bridgewater ignored a broken wrist to direct Louisville to a dominant 33–23 Sugar Bowl win over Florida. It's difficult to imagine that Bridgewater could improve his 27 touchdown passes and 69.0 completion percentage season, but Strong says that Bridgewater knows the schemes as well as his assistants. Louisville's only fear is another injury to Bridgewater, because the backups lack any game experience.
But that's the only place Strong's team lacks sizzle. Halfback Dominique Brown returned from a knee injury for the Spring Game to run like the power back Strong covets. He'll share time with Senorise Perry, who is also returning from knee surgery. Former Auburn running back Michael Dyer transferred to Louisville in August and is expected to share the workload at running back with Perry and Brown. Bridgewater throws to an elite group of receivers. Junior DeVante Parker is NFL-ready, averaging nearly 19 yards per catch. Eli Rogers has been Bridgewater's security blanket since high school. Speedster Damian Copeland led the team in receptions.
Strong's only challenge is replacing two three-year starters on the offensive line. Coaches experimented with guard Jake Smith at the center spot during spring practice, a move Bridgewater endorsed, but Smith remains at guard for now. Tackle Abraham "Nacho" Garcia played as a true freshman and has star potential.
Follow the top 25 on Twitter @AthlonSports and join the debate at #Athlon25.
DEFENSE
Strong made his name as a defensive coordinator, and he bristled last season over grumbling about the defense. But there were reasons for the unease. Louisville did not rank in the top half of the Big East in rushing or scoring defense, and the Cardinals did not play to their potential until the Sugar Bowl, when they recorded a pair of interceptions and three sacks against the Gators.
Only one full-time starter, cornerback Adrian Bushell, must be replaced from that group, so expectations will be extremely high.
Defensive tackles Brandon Dunn and Jamaine Brooks are confirmed run-stuffers. They demand double teams that create lanes for Deiontrez Mount to pursue the quarterback. Linebacker Preston Brown remains a foundational piece of the defense that Strong started building in 2010, and sophomores James Burgess and Keith Brown have star potential. George Durant fended off a challenge from the youngsters and held on to his outside linebacker spot. Terell Floyd mans a cornerback spot, where he will benefit from the support of a pair of ferocious hitters — safeties Hakeem Smith and Calvin Pryor.
Key Player
Teddy Bridgewater, QB – Blossomed into one of the nation's top quarterbacks last year, throwing for 3,718 yards and 27 scores. If he declares early, Bridgewater could be one of the top-five picks in the 2014 NFL Draft.
Hakeem Smith, S – Three-year starter and three-time all-conference performer at safety. Smith recorded 73 tackles and seven pass breakups in 2012.
DeVante Parker, WR – Emerged as Teddy Bridgewater's big-play threat last season, catching 40 passes for 744 yards and 10 scores.
Schedule
SPECIALISTS
This is another area where Louisville needs improvement. The Cards failed to rank in the top 100 in either punt or kickoff returns. Perhaps freshman James Quick, who turned down offers from Ohio State, Tennessee and Oregon to stay home, can change that, because he excelled returning punts in high school and is a sprint champion. Placekicker John Wallace was 14-of-14 inside 40 yards. Ryan Johnson, the punter, is dependable, but not spectacular.
FINAL ANALYSIS
With 14 returning starters, a likely first-round draft pick at quarterback and memories of thumping Florida in New Orleans, anything less than a 12–0 season would be considered a disappointment by many Louisville fans. Strong's team is loaded with speed, toughness and experience on both sides of the ball.
Another reason for raging expectations: the schedule. Louisville likely will not play a top-25 team during the regular season now that Boise State has snubbed the crumbling Big East — known now as the American Athletic Conference. Syracuse, one of two teams to beat Louisville in 2012, is gone to the ACC. That leaves a rivalry game at Kentucky and a season-ending visit to Cincinnati as the major obstacles.
DOWNLOAD LOUISVILLE WALLPAPER (CLICK IMAGE)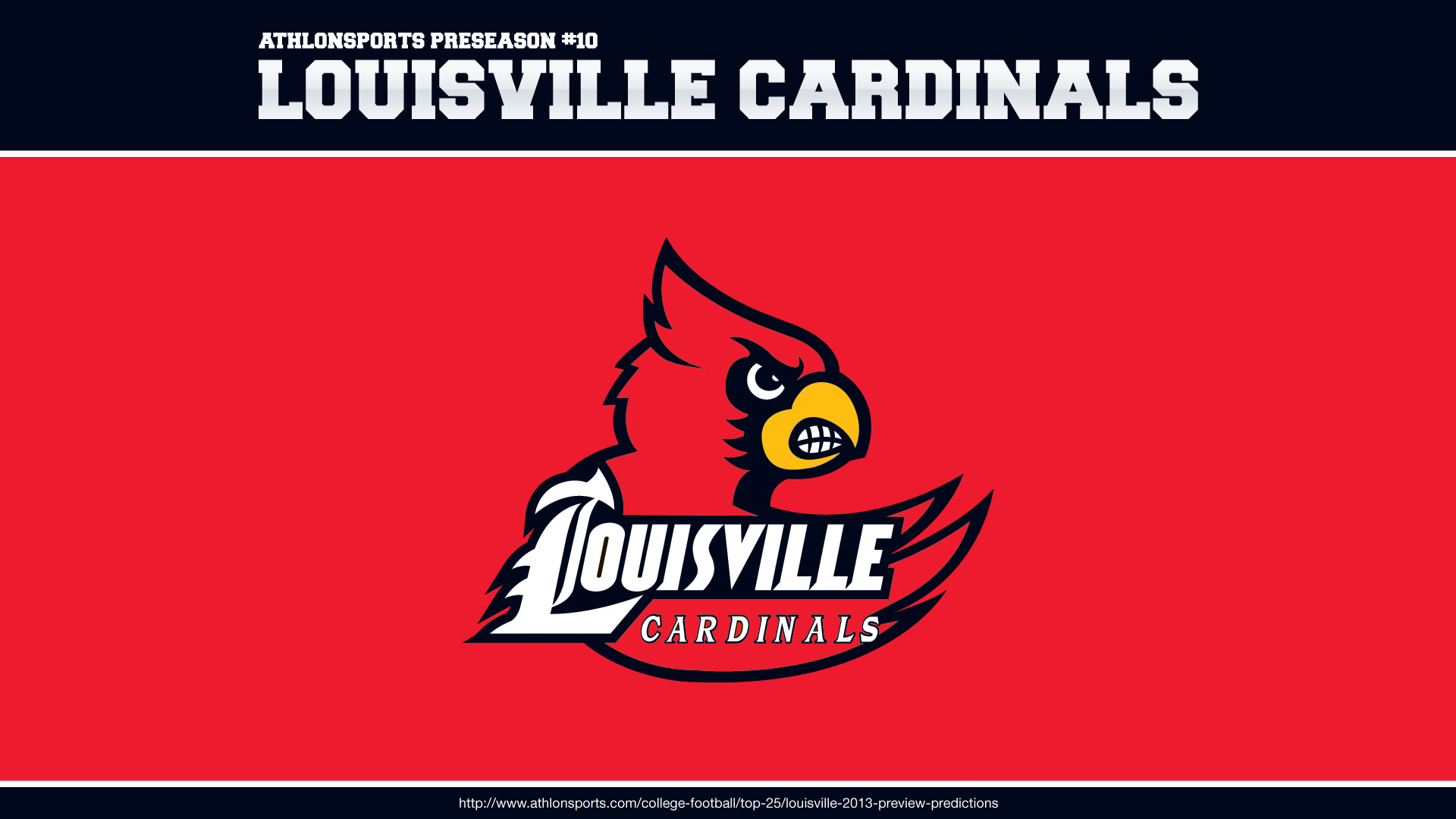 The Debate
Will Louisville Go Undefeated in 2013?
You Might Also Like