Notre Dame
COLLEGE FOOTBALL 2013 PRESEASON TOP 25
#10
| | |
| --- | --- |
| NATIONAL FORECAST | #10 |
| Independent PREDICTION | #1 |
HEAD COACH: Brian Kelly, 28-11 (3 years) | OFF. COORDINATOR: Chuck Martin | DEF. COORDINATOR: Bob Diaco, Kerry Cooks
The pieces are in place for Notre Dame to make another run at the national title.
OFFENSE
The Fighting Irish offense was dealt a huge setback in late May, as quarterback Everett Golson was suspended from the team for the 2013 season due to academic issues. Veteran Tommy Rees will assume the top spot on the depth chart, but Andrew Hendrix and true freshman Malik Zaire should have an opportunity to push for playing time in the fall.
While losing Golson is a huge setback, Notre Dame returns three-fifths of the starting offensive line from '12, and some exciting young skill position players.
Notre Dame scored 22 points or less in regulation in eight of its 12 victories. Most of their problems stemmed from a 48.3 touchdown percentage in the red zone (which ranked 112th in the nation).
The Irish lost 304 carries, 1,659 yards rushing, and nine TDs with the graduation of Theo Riddick and Cierre Wood. But junior George Atkinson III leads a pack of talented young backs.
Senior TJ Jones, who caught 50 passes for 649 yards, headlines a young receiving corps that will have to increase its production to help offset the loss of tight end Tyler Eifert. Sophomore DaVaris Daniels will have a prominent role.
The offensive line will be a strength. Left tackle Zack Martin is back for a final year of eligibility after projecting as a second-round NFL pick.
Follow the top 25 on Twitter @AthlonSports and join the debate at #Athlon25.
DEFENSE
It's rare that Notre Dame boasts NFL talent along the defensive line, which is a big reason why the Irish hadn't competed for a national title in nearly two decades. But with juniors Louis Nix III at nose guard and Stephon Tuitt at left end, the Irish are capable of dominating at the point of attack.
Linebacker Manti Te'o will no doubt be missed, but his replacement, Jarrett Grace, is the type of downhill run-stopper with size that defensive coordinator Bob Diaco covets.
The Irish secondary is deep and talented. Matthias Farley, a former wide receiver, is the leader of a solid group of safeties that also includes sophomore Elijah Shumate and freshman 5-star prospect Max Redfield. Notre Dame struck gold last year with first-time cornerback starters Bennett Jackson and KeiVarae Russell. Lo Wood is back after missing last season with an Achilles injury.
Key Player
Tommy Rees, QB – With Everett Golson suspended for 2013, Rees will assume the starting spot under center. Rees has 18 starts and 4,413 passing yards in his career.
Louis Nix III, NG – The proverbial immovable object in the middle of the line holds the point of attack as well as any nose guard in the country.
Stephon Tuitt, DE – Despite battling a sports hernia the second half of the season, he still led the Irish in sacks with 12.
Schedule
SPECIALISTS
Kyle Brindza started the 2012 campaign as the backup to Nick Tausch, who waited his turn as David Ruffer ran roughshod over the Irish kicking record book in '11. But Tausch suffered an injury before the second game, and Brindza stepped in and set a school record with 23 field goals. Alex Wulfeck, a senior transfer from Wake Forest, is in line to take over the punting duties.
FINAL ANALYSIS
All the stars aligned last year for the Irish — at least, until they ran into Alabama. They were 5–0 in games decided by one score, and they went from a horrid minus-15 turnover ratio in 2011 to a more desirable plus-8. The Irish caught some breaks and created the ones they didn't.
The 2012 defense was the best at Notre Dame since the 1966 national championship squad. Even with the loss of Te'o, the inside linebacker corps is solid, and in Nix and Tuitt up front, the Irish have a couple of future NFL performers.
It is conceivable that the Irish could be as good if not better in more facets of the game in 2013 but fail to duplicate last year's magical, unscathed run to the national title game. The Irish face another challenging schedule that includes Michigan, Michigan State, Oklahoma, Arizona State, USC, Pittsburgh, BYU and Stanford.
The Irish are a deeper team with a year of success upon which to build. Anything shy of 10 wins will be a disappointment.
DOWNLOAD NOTRE DAME WALLPAPER (CLICK IMAGE BELOW)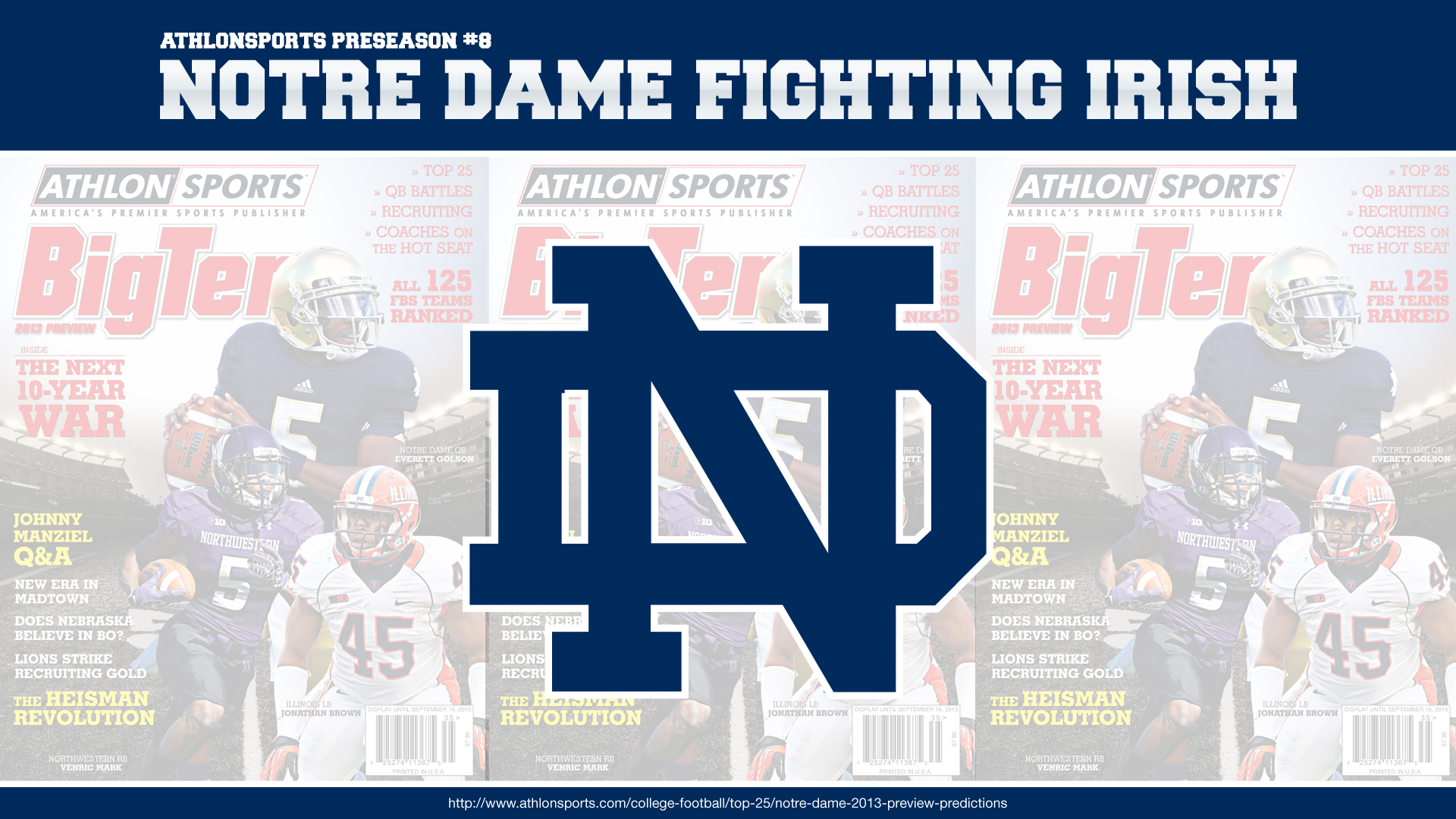 Want to win a poster-sized Athlon magazine cover of your choice? ENTER NOW!
The Debate
Will Notre Dame play in a BCS bowl in 2013?
You Might Also Like