Oklahoma
COLLEGE FOOTBALL 2013 PRESEASON TOP 25
#17
| | |
| --- | --- |
| NATIONAL FORECAST | #17 |
| Big 12 PREDICTION | #2 |
HEAD COACH: Bob Stoops, 149-37 (14 years) | OFF. COORDINATOR: Josh Heupel, Jay Norvell | DEF. COORDINATOR: Mike Stoops
The Sooners need a big season from new quarterback Blake Bell.
OFFENSE
Rarely under Bob Stoops has Oklahoma been so uncertain at quarterback, or so unclear on the direction of the offense. Yet also under Stoops, Oklahoma always seems to produce positive answers.
Gone is Landry Jones, whose 39 career wins were the most in the rich history of the program. His top two receivers are gone, too.
And a buzz about a move to more of a read-option offense hovered around the team in the offseason, with the combatants in an ongoing quarterback competition — Blake Bell, Trevor Knight and Kendal Thompson — all logical fits for such an attack. Thompson suffered a foot injury on the first day of practice and is out indefinitely.
Now, that's not to say the Sooners will abandon the air-it-out attack that has produced double-digit win totals in 11 of Stoops' 14 seasons.
"We will never give up anything as far as our quarterbacks having the ability to pass," says co-offensive coordinator Josh Heupel. "That's our primary focus first. We have great skill guys, and we want to make sure we're able to distribute the ball to those guys. But certainly the guys we have on campus are a little bit different than Landry."
Bell has experience, having played key moments in 20 games. Yet most have come in the "Belldozer" package, designed to utilize him in the short-yardage run game. It's a role Bell has flourished in, scoring 24 touchdowns on 104 rushes over two seasons. But the former 5-star prospect has more rushing TDs than pass attempts (20) and must prove he's capable of succeeding as a thrower as well as a runner.
While Bell is the only quarterback with game experience, the competition was on in the spring, with Thompson and Knight very much in the mix. As fall practice begins, it appears to be a two-man race between Bell and Knight, with Bell owning an edge for the top spot.
A line that returns four starters and is anchored by first-team All-Big 12 center Gabe Ikard should be a strength in aiding OU's transition.
And there are proven skill players in place, with running back Damien Williams, receiver Jalen Saunders and hybrid fullback/tight end Trey Millard all capable of all-conference seasons.
Follow the top 25 on Twitter @AthlonSports and join the debate at #Athlon25.
DEFENSE
A major makeover is taking place on the defensive side of the ball. Just four starters return overall, leaving major questions along the front seven. Even in the secondary, where experience exists, position shuffles and shaky previous performances linger among several of the starters.
Aaron Colvin is the headliner, a shutdown corner who produced four interceptions and a team-high 11 passes defended a year ago, earning first-team All-Big 12 honors. Beyond Colvin in the secondary, the Sooners are banking on a cast that includes everything from transfers to a player coming off suspension to true freshmen.
Defensive tackle Chuka Ndulue, linebacker Corey Nelson and safety Gabe Lynn are the other returning starters. Everywhere else, there's a need for players to develop — and do so quickly.
Key Player
Aaron Colvin, CB – Lockdown corners are a lifeline in the Big 12; in Colvin, the Sooners have one of the nation's best.
Damien Williams, RB – A breakaway threat, Williams should thrive in his second season in the system. Had four 100-yard games in 2012.
Gabe Ikard, C – The versatile Ikard is smart and savvy, the brain stem of the offensive line at center.
Jalen Saunders, WR – His quickness and sure hands in the slot will provide comfort for the next Sooner quarterback. Closed regular season with three 100-yard games.
Trey Millard, FB – Whether he's at fullback or tight end, Millard is a physical presence.
Schedule
SPECIALISTS
Michael Hunnicutt gives the Sooners a reliable weapon in the kicking game. He made 17-of-21 field goals a year ago. Coaches are hoping junior college transfer Jed Barnett fills the void at punter. The return game is solid.
FINAL ANALYSIS
For a change, the Sooners aren't considered Big 12 favorites. All the question marks and a rugged schedule that includes trips to Notre Dame and Kansas State as well as rival Oklahoma State create a major challenge for a team in transition.
Oklahoma remains a contender, surely capable of claiming another conference crown — there's plenty of talent on the roster — yet the Sooners seemingly need so much to go right on both sides of the ball to hang another championship banner.
"It doesn't change anything whatsoever," Stoops says. "We've never put much stock or cared where we were or weren't picked."
DOWNLOAD OKLAHOMA WALLPAPER (CLICK IMAGE)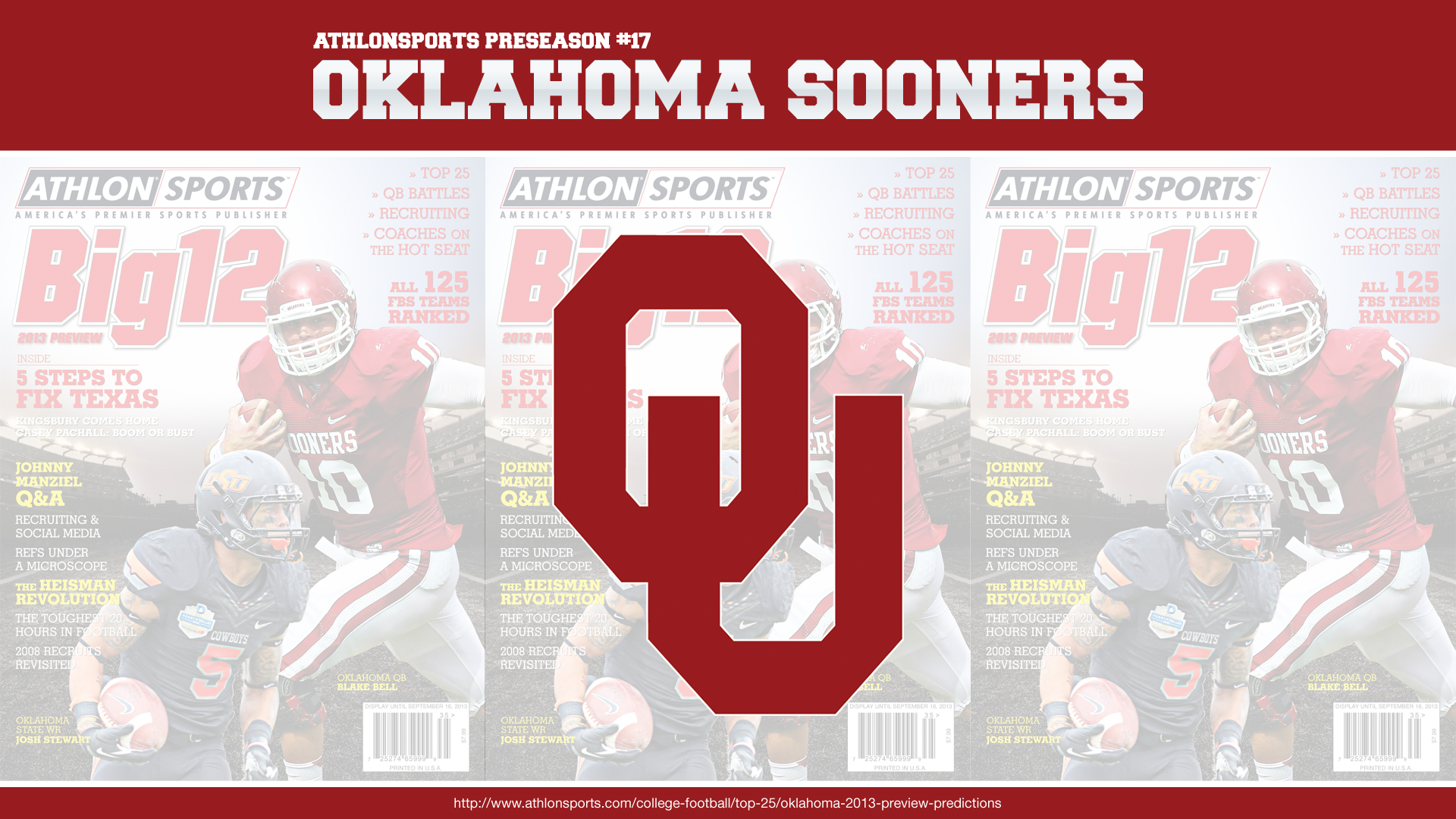 The Debate
Oklahoma or Texas: Who Will Have More Wins in 2013?
You Might Also Like