Oklahoma State
COLLEGE FOOTBALL 2013 PRESEASON TOP 25
#16
| | |
| --- | --- |
| NATIONAL FORECAST | #16 |
| Big 12 PREDICTION | #1 |
HEAD COACH: Mike Gundy, 67-35 (8 years) | OFF. COORDINATOR: Mike Yurcich | DEF. COORDINATOR: Glenn Spencer
A favorable schedule and powerful offense should lead Oklahoma State to the Big 12 title.
OFFENSE
Despite the transfer of sophomore Wes Lunt, Oklahoma State's quarterback situation is still surrounded in a little mystery heading into the fall.
For the Cowboys, their quarterbacking duo — senior Clint Chelf and sophomore J.W. Walsh — conjures nothing but positive thoughts. Both started and won Big 12 games a year ago. And neither lost the job due to poor performance, but rather injuries that sidelined Lunt and Walsh, clearing the way for the former third-teamer Chelf to seize the spot. Once handed the controls to OSU's high-octane offense, Chelf thrived, starting the final five games and earning MVP honors at the Heart of Dallas Bowl after directing a rout of Purdue. Chelf also earned the trust of teammates and head coach Mike Gundy, putting him atop the depth chart entering the season. And after opening last season as an afterthought, he enters this season with complete confidence.
"Knowing I've played and have some experience under my belt, that just makes you more comfortable as a player and more confident in your ability," Chelf says. "I definitely feel a lot better."
There's still competition, and knowledge of what all three have accomplished. Whoever stands behind center will operate with many major weapons and a stout offensive line. Receivers Josh Stewart and Tracy Moore are both All-Big 12 types. And other pass-catching options are plentiful in OSU's spread attack, which is bent on playing even faster under new offensive coordinator Mike Yurcich.
Two-time All-Big 12 back Joseph Randle must be replaced, but Jeremy Smith vows he's ready for the spotlight, and he's been good enough in reserve to score 25 career touchdowns.
Follow the top 25 on Twitter @AthlonSports and join the debate at #Athlon25.
DEFENSE
After seasons of being perceived as the weak link of the team, the defense has adopted an attack mentality. New coordinator Glenn Spencer, who replaced the fired Bill Young, is charged with orchestrating a change that is wildly popular among players.
"Now we get to play a lot more aggressive," says cornerback Justin Gilbert. "And that's going to be a lot better for us."
There's talent in place, from the league's best tackle tandem in Calvin Barnett and James Castleman, to veteran and productive linebackers Shaun Lewis and Caleb Lavey, to safety Daytawion Lowe. Gilbert needs to play more like he did in a standout 2011 season than his scuffling effort of last season, but the potential is there.
And a cast of young players moving into more prominent roles has stirred optimism among the defensive staff.
Key Player
Josh Stewart, WR – Emerged as a clutch go-to receiver, posting the third-best season ever by an OSU sophomore with 101 catches for 1,210 yards.
Justin Gilbert, CB – Coming off a disappointing year, but he's more than capable of locking down one side of the field.
Calvin Barnett, DT – A disruptive force in the middle who earned All-Big 12 honors last season; his eight tackles for a loss led the Cowboys.
Daytawion Lowe, FS – The enforcer of the secondary, Lowe is a playmaker against the run or pass.
Tracy Moore, WR – Back from a foot injury, the physical Moore is a matchup nightmare on the edge. He had four TDs against Arizona.
Schedule
SPECIALISTS
Gilbert is a dynamic kickoff return man, already owning the school record with five touchdown returns. Stewart offers similar potential on punt returns. But the kicking and punting chores — a program staple — are in flux. And the Cowboys may have to rely on true freshman Ben Grogan to replace three-year standout Quinn Sharp in both roles.
FINAL ANALYSIS
The bar is set high for the Cowboys — Big 12 championship high, with 12 returning starters and even more promising players on the rise. The schedule opens with a challenge: a date with improving SEC squad Mississippi State, in Houston. The Cowboys get TCU and Oklahoma, arguably their two major challengers in the Big 12, at home.
Gundy must be careful to keep the quarterback situation under control, as Chelf and Walsh tasted life as the starter and certainly hunger for more. So far, it hasn't been an issue. Otherwise, it should be business as usual on offense, which during the Gundy era has been big business. If the defense makes a smooth transition to an attacking approach, the Cowboys will be hard to beat in the Big 12.
DOWNLOAD OKLAHOMA STATE WALLAPPER (CLICK IMAGE)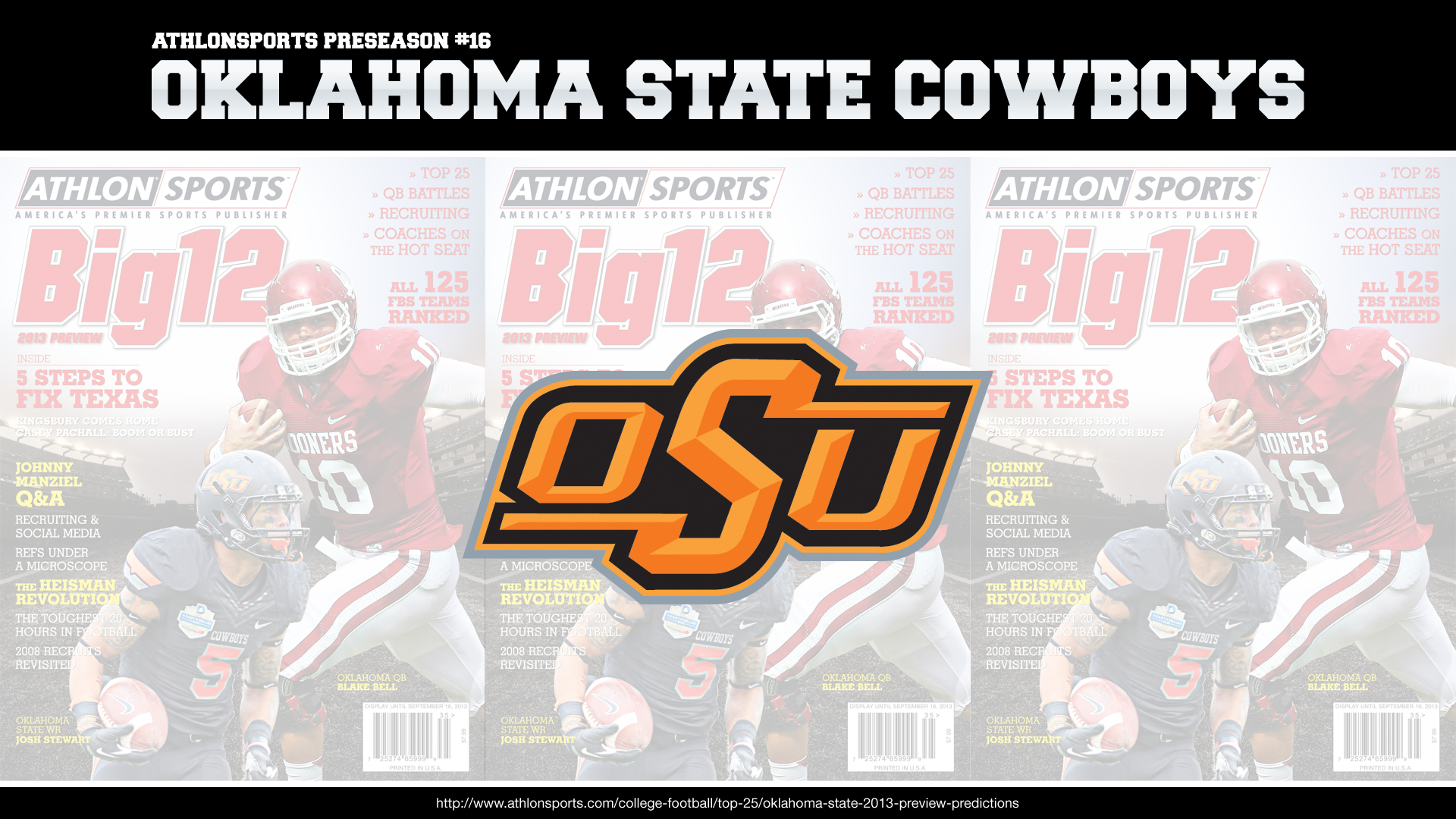 The Debate
Is Clint Chelf the Big 12's No. 1 quarterback for 2013?
You Might Also Like