South Carolina
COLLEGE FOOTBALL 2013 PRESEASON TOP 25
#5
| | |
| --- | --- |
| NATIONAL FORECAST | #5 |
| SEC East PREDICTION | #2 |
HEAD COACH: Steve Spurrier, | OFF. COORDINATOR: Steve Spurrier | DEF. COORDINATOR: Lorenzo Ward
The Gamecocks aren't flashy but should push Georgia for the SEC East title.
OFFENSE
At Florida in the 1990s, Steve Spurrier won while playing two quarterbacks at times. He might do it again this season. Connor Shaw's injuries gave Dylan Thompson opportunities last season, which ended by Thompson throwing the game-winning touchdown pass at the finish of the Outback Bowl. Thompson also played all of the previous game, a win over rival Clemson.
So what now? Thompson, a junior, says Spurrier told him to expect to play this season. Shaw, a senior, missed all of spring practices while undergoing foot surgery, but that didn't concern quarterbacks coach G.A. Mangus. Shaw showed no ill-effects from his offseason ailments, as he returned in time for fall practice.
Marcus Lattimore was the heart and soul of the Gamecocks' program for the past three seasons. But he turned pro early, after a devastating knee injury, and now Spurrier will try to replace him with another high-profile recruit, Mike Davis, who had 52 carries last season as a true freshman. Davis improved his pass-blocking this spring, which enabled him to beat out the slower Brandon Wilds for the job.
Bruce Ellington will step into the role of No. 1 receiver after Ace Sanders left early for the NFL Draft. Junior Nick Jones and sophomore Shaq Roland will also be major factors in the passing game.
Every offensive line starter returns except center T.J. Johnson, and that's a big loss because he started every game for the past three seasons. His replacement, redshirt freshman Cody Waldrop, struggled with snapping at times in the spring.
Follow the top 25 on Twitter @AthlonSports and join the debate at #Athlon25.
DEFENSE
Quite simply, no player in college football left a more indelible final impression in 2012 than defensive end Jadeveon Clowney, whose helmet-popping hit on Michigan running back Vincent Smith in the Outback Bowl continued to wow everybody for months after it happened. Clowney now has 21 career sacks and 35.5 tackles for a loss. If offensive lines slide their protections toward Clowney, senior Chaz Sutton can take advantage.
Linebacker is the biggest question mark for the Gamecocks, who lost all three of their starters. They likely will start sophomore Kaiwan Lewis at the Mike spot — the linebacker responsible for aligning the defensive front before the snap. They will enter August practices with battles at the two outside linebacker spots — Will and Spur. T.J. Holloman and Cedrick Cooper are even at Will, while Sharrod Golightly is slightly ahead of Jordan Diggs at Spur.
Cornerback Victor Hampton is one of South Carolina's most talented players. And if he has a big 2013 season as a junior, he could cash in for NFL money, just as Stephon Gilmore did after the 2011 season. Hampton knows this, and he also knows he has to continue to demonstrate maturity, after off-field disciplinary issues pockmarked the early part of his career.
Key Player
Jadeveon Clowney, DE – The college football world has one more season to enjoy him before he cashes in as the likely No. 1 pick in the 2014 NFL Draft.
Connor Shaw, QB – He has been South Carolina's starter since Stephen Garcia was kicked off the team midway through 2011. Likely to share snaps with Dylan Thompson.
Bruce Ellington, WR – Two-sport star blossomed into a complete college receiver in 2012 after struggling with the position at times in 2011.
Victor Hampton, CB – Possesses the type of physical skills to be an elite boundary corner, like Stephon Gilmore was for the Gamecocks, as long as he stays focused mentally.
Dylan Thompson, QB – A lightly recruited player, he proved himself plenty capable in big spots last year when Shaw was injured.
Schedule
SPECIALISTS
Sanders was a very good receiver, but an even better punt returner. He ranked fourth nationally last season with 15.3 yards per return and brought two back for touchdowns. So who takes his place? Hampton seems like the leading candidate, but the coaches want to cast a wide net in this search. Ellington is one of the country's most experienced kickoff returners. He returned 18 last season and 20 in 2011.
FINAL ANALYSIS
With a game-changing player like Clowney, South Carolina has a chance for a special season. If Spurrier can manage the Shaw-Thompson rotation and get positive results from Davis, who certainly doesn't have to be the next Lattimore in his first year as a starter, then the Gamecocks' offense has a chance to be better than it was the past two seasons, when they leaned on their defense and the offense ranked No. 82 and 74 nationally in yards per game.
DOWNLOAD SOUTH CAROLINA WALLPAPER (CLICK IMAGE BELOW)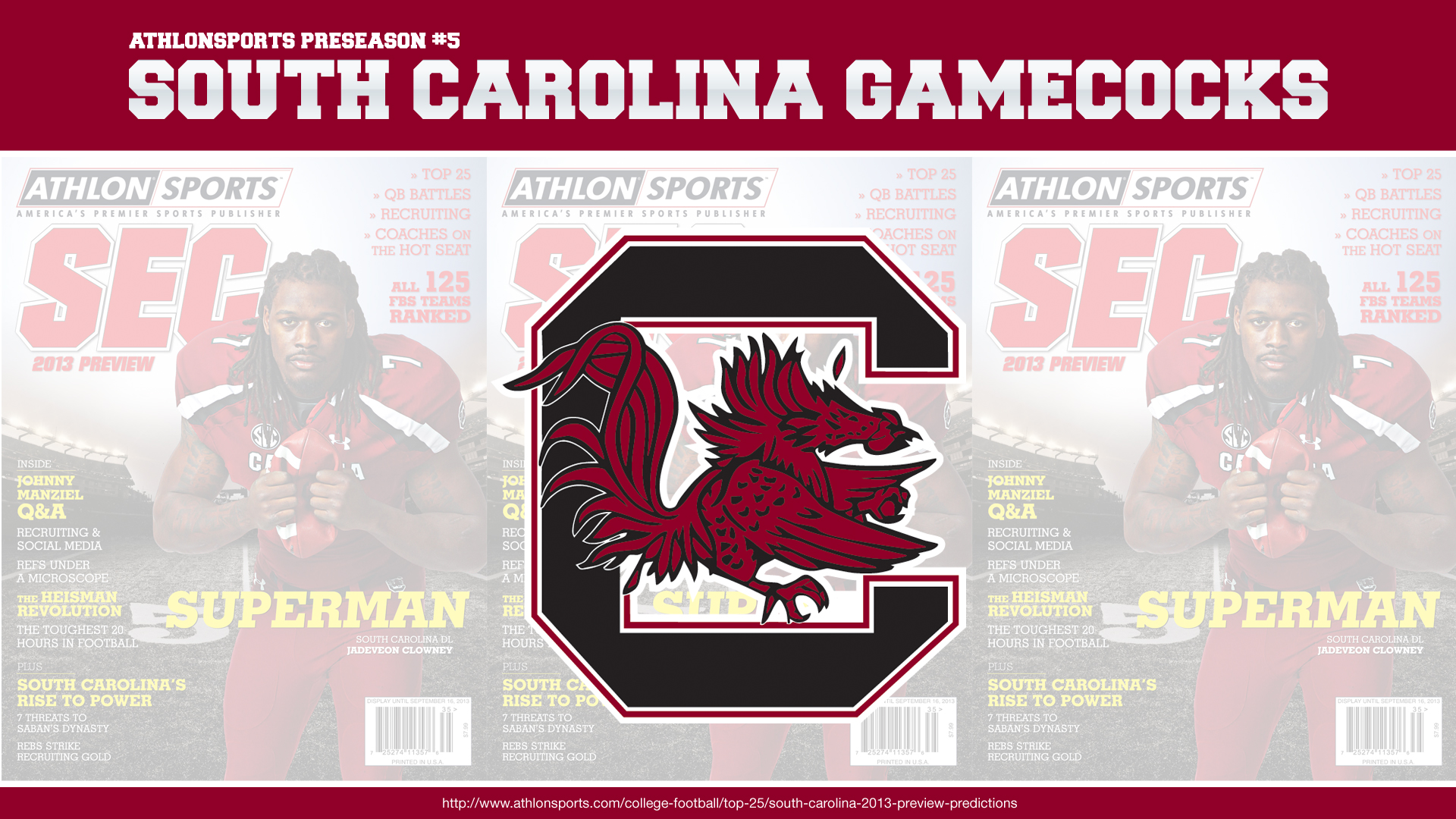 The Debate
Florida, Georgia or South Carolina: Who Wins the SEC East in 2013?
You Might Also Like