TCU
COLLEGE FOOTBALL 2013 PRESEASON TOP 25
#20
| | |
| --- | --- |
| NATIONAL FORECAST | #20 |
| Big 12 PREDICTION | #4 |
HEAD COACH: Gary Patterson, 116-36 (12 years) | OFF. COORDINATOR: Jarrett Anderson, Rusty Burns | DEF. COORDINATOR: Dick Bumpas
The Horned Frogs must navigate a tough schedule in Big 12 play this year.
OFFENSE
Technically, TCU returns four starters on offense, but a more accurate number would be seven.
Not only has quarterback Casey Pachall returned, but so has former leading rusher Waymon James and projected starting tight end Stephen Bryant. Both James and Bryant were sidelined with season-ending injuries in 2012, and Pachall returns after missing the final nine games when he left school to seek treatment for substance abuse.
Pachall has been given the chance to earn his starting job back from Trevone Boykin, who filled in admirably as a redshirt freshman. Boykin is talented and does a better job improvising, but Pachall has a stronger arm and a firmer grasp of the offense. Now a senior, Pachall could be the story of the year in college football if he stays healthy — physically and mentally — and helps TCU compete for a Big 12 title.
James' return is as big as Pachall's. He led the Frogs in rushing in 2011 and was off to a good start before injuring his knee in Week 2. If TCU's line can shore up its depth issues, the Horned Frogs could emerge as the team to beat in the Big 12.
Follow the top 25 on Twitter @AthlonSports and join the debate at #Athlon25.
DEFENSE
Eight starters return to a TCU defense that ranked first in the league and 16th nationally.
The two losses are big — defensive end Stansly Maponga and linebacker Kenny Cain — but the Frogs have been at their best in the Gary Patterson era when their secondary is deep and experienced. And that's the case in 2013. Led by strong safety Sam Carter and All-America cornerback Jason Verrett, TCU intercepted 21 passes last season and helped slow down the wide-open offenses of the Big 12.
Associated Press Big 12 Defensive Player of the Year Devonte Fields recorded 18.5 tackles for a loss and 10 sacks coming from the right edge, but he will have operate this fall without Maponga coming from the left side. Fields leads a deep and talented defensive line that should be one of the league's best.
The one area of concern is linebacker, where TCU does not have a returning starter. Junior Marcus Mallet is expected to start at one spot, but former walk-on Joel Hasley decided to leave the team in the fall. Mallet has to get better in coverage this year. Former safety Jonathan Anderson moved to linebacker in the spring and could bring an element of speed.
Key Player
Casey Pachall, QB – Leads all active quarterbacks with a career passing efficiency rating of 163.1.
Waymon James, RB – Led TCU in rushing with 875 yards in 2011 and was averaging 9.9 yards per carry in 2012 before going down with a season-ending knee injury in Week 2.
Devonte Fields, DE – The Associated Press Big 12 Defensive Player of the Year led the league with 18.5 tackles for a loss and was third with 10 sacks as a true freshman.
Jason Verrett, CB – An All-American who led the Big 12 with six interceptions and 22 passes defended.
Brandon Carter, WR – Consistently provides a big-play threat and is TCU's leading returning receiver with 590 yards and six touchdowns.

Schedule
SPECIALISTS
Both kicker Jaden Oberkrom and punter Ethan Perry performed well as true freshmen in 2012. Oberkrom made 22-of-30 field goals, including all six attempts in a triple-overtime loss to Texas Tech, one shy of tying an NCAA single-game record. Perry's 44.5-yard punting average is the second-best all-time at TCU and the best average since 1981. Deanté Gray's career opened with a bang when he returned his first punt 70 yards for a score in the 2012 season opener, finishing with a TCU-record 160 return yards. Gray, Verrett and Brandon Carter could all be used on punt and kick returns.
FINAL ANALYSIS
There's a tangible sense of optimism surrounding TCU as it prepares for its second season in the Big 12.
Patterson has a veteran team — as many as 15 of the projected starting 22 players are juniors or seniors. That wasn't the case in 2012, when TCU fielded one of the youngest teams in the country.
"This is finally a year where we're a little bit older," Patterson said during spring camp. "The last two years we've been young, so the guys know what they're doing."
But two big areas of concern could cause TCU a lot of problems. The offensive line is thin and inexperienced. The linebacker corps, long a steady cornerstone of the Frogs' defense, is dreadfully lacking in depth. If Patterson can solve these two problem areas, TCU should find itself in position to win a conference title.
DOWNLOAD TCU WALLPAPER (CLICK IMAGE)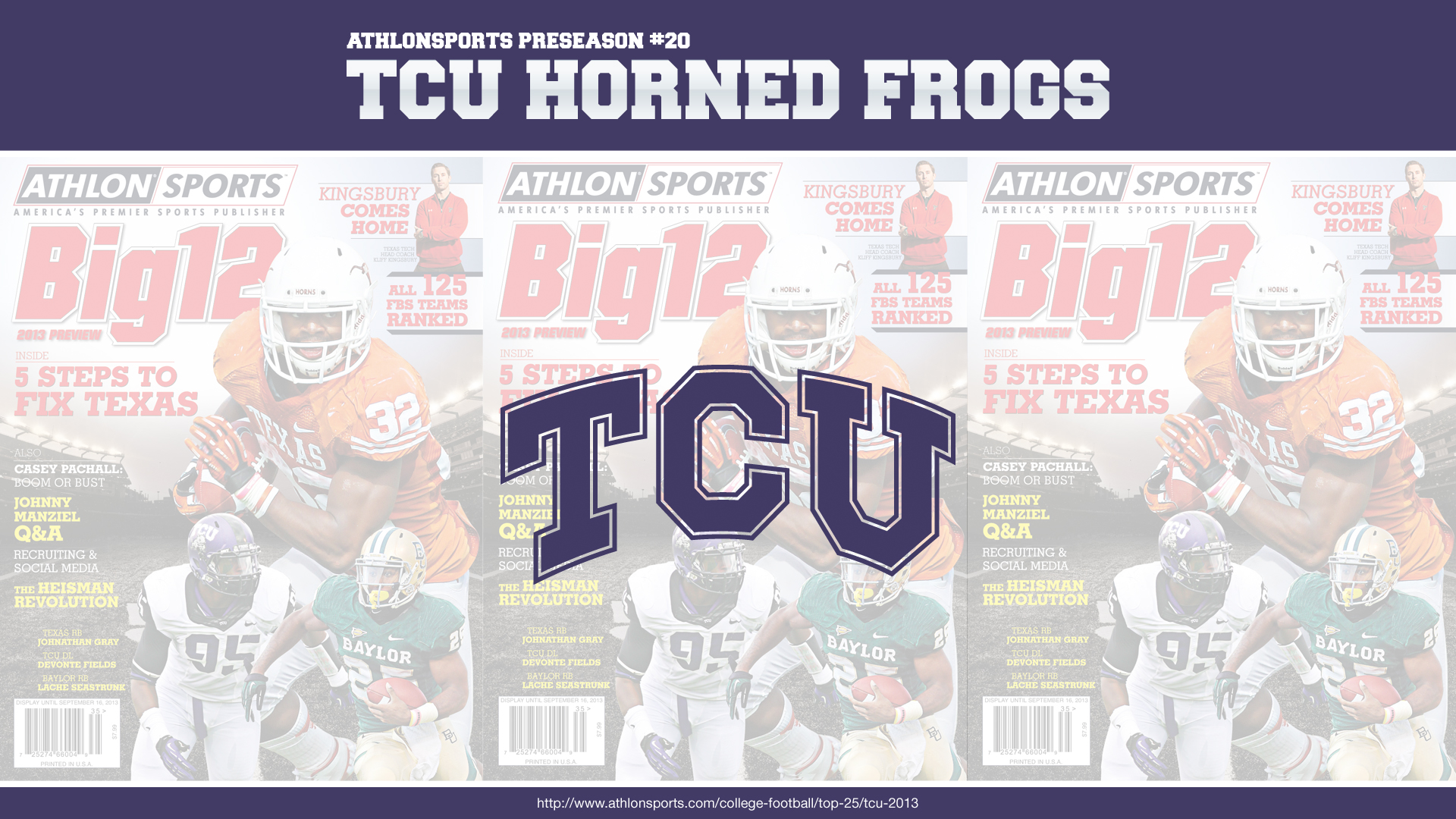 The Debate
Which Team Will Win the Big 12 Title in 2013?
You Might Also Like