Rounding Up the Web's Best Sports Links So You Don't Have To.
This is your daily link roundup of our favorite sports posts on the web for Nov. 4.
• Enjoy this countdown of the 101 Most Beautiful People in Sports, including Octagon girl Brittney Palmer (pictured).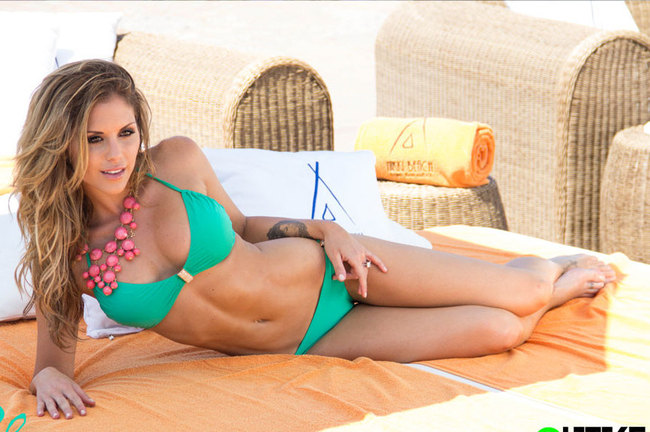 • Adrian Peterson did his best Earl Campbell impression on an insane touchdown run yesterday.
• Unintentional danglies on the TV screen are never not funny. These are courtesy of analyst Dan Fouts.
• The last month's most dominant team? Yep, the Carolina Panthers.
• The WSJ takes some air out of the Chiefs' balloon by pointing out that they've been feasting on backup quarterbacks. Hey, a win's a win, I say.
• The Richie Incognito bullying saga has taken a new twist. Apparently the psycho apple didn't fall far from the tree.
• So just how did Twitter take over the world? Here are the 140 moments that made Twitter matter.
• Today in sad Philly has-beens: Dutch Daulton had to break up Mitch "Wild Thing" Williams and Lenny Dykstra at an autograph signing.
• Bob Ryan ranks the 25 greatest Red Sox players of all time. Papi's No. 4. That seems awfully high. But Ryan's pretty much seen 'em all.
• Here's a list of badass vegans, including Iron Mike Tyson, whose chomp on Evander Holyfield's ear was a rare moment of carniverous weakness.
• So Usain Bolt ate 1,000 Chicken McNuggets in Beijing. I sense a sponsorship opportunity.
• Kansas coach Bill Self broke out the Ron Burgundy impression. Not bad.
-- Email us with any compelling sports-related links at [email protected]