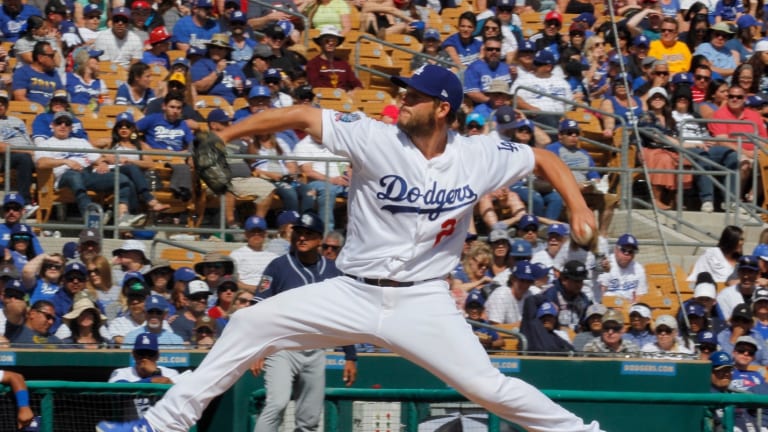 2022 World Series Odds
Favorites and Dark Horses to Win the Fall Classic
The 2022 MLB season is cruising along as the 162-game regular season nears the all-important All-Star game in July. Teams are doing what they can to win crucial series during the dog days of the campaign, with their main goal being a playoff berth and, ultimately, winning the 2022 World Series. Looking for the latest MLB odds, picks and rankings? OddsTrader has you covered.
Heading into the end of June, let's check in on the MLB winner futures market for a look at the favorites and possible value selections.
MLB World Series Winner Odds
Check out the favorites to win the World Series. MLB World Series winner odds are courtesy of Caesars Sportsbook:

Los Angeles Dodgers (+420)
New York Yankees (+450)
New York Mets (+700)
Houston Astros (+700)
Toronto Blue Jays (+1000)
San Diego Padres (+1200)
Atlanta Braves (+1200)
Milwaukee Brewers (+1400)
St. Louis Cardinals (+2200)
Minnesota Twins (+2200)
Chicago White Sox (+1200)
San Francisco Giants (+2500)
Tampa Bay Rays (+2800)
MLB World Series Winner Prediction
Los Angeles Dodgers
Few should be surprised that the Dodgers are Caesar Sportsbook's +450 favorite to win the 2022 World Series.
When it comes to the current World Series odds, it is the Los Angeles Dodgers and everyone else. Heck, L.A. manager Dave Roberts even went so far as to guarantee that his Dodgers would hoist the Commissioner's Trophy this fall. Considering how loaded the roster is, the pressure is on to deliver on that promise.
Being the title favorites is certainly nothing new for Los Angeles. It is a status that the Dodgers have held in each of the last several seasons. Despite this, L.A. only has one World Series ring to show for it. That 2020 championship also comes with the asterisk of being a shortened season with obscure scheduling and postseason formats.
For the Dodgers to truly silence their doubters and critics, winning the World Series in a traditional season is vital.
Of course, the Dodgers almost made it back to the Fall Classic last year, losing to Atlanta in the NLCS. Almost all of the ridiculously talented roster from a year ago returns. While losing ace starting pitcher Max Scherzer hurts, L.A. still boasts a nasty trio of arms in Walker Buehler, Julio Urias, and Clayton Kershaw.
The health of the latter will be key, and one can safely assume the Dodgers will be in the market to acquire additional pitching depth via midseason trades.
The real splash the Dodgers made this offseason came when they successfully lured longtime Atlanta Brave Freddie Freeman out to Southern California. In doing so, Los Angeles effectively poached the star player on the one team that beat them in last year's postseason.
Talk about making a statement! Freeman becomes the latest megastar in a lineup that already included Mookie Betts, Max Muncy, Will Smith, Justin Turner, Cody Bellinger, and Trea Turner.
Yeah, you get the gist. The Dodgers are LOADED offensively.
This team has all the characteristics of the massive favorite they are in the preseason MLB World Series odds.
NL MLB World Series Contenders
New York Mets
We like the Mets +350 a lot more than I like LA +200. Also, there's something to be said for the perseverance exhibited by Buck Showalter's club this season. Injuries upon injuries to the rotation?
Next man up. Banged-up lineup? No worries, the Metropolitans lead the majors in runs, hits, batting average, and on-base percentage. If New York can get some of its studs back from injury, especially Jacob deGrom (right shoulder) and Max Scherzer (left oblique), this squad is a true contender.
San Diego Padres
The Padres seem perennially overlooked due to the division-rival Dodgers, a fact that almost always turns them into NL pennant sleeper candidates. Only four teams in the MLB have better records than San Diego, and Fernando Tatis Jr. (left wrist) hasn't even played a game this season.
Manny Machado has played like an MVP, and both Eric Hosmer and Jurickson Profar have been revelations. Joe Musgrove has looked like a Cy Young candidate, while rookie hurler MacKenzie Gore has been as electric as advertised.
If this team can get Tatis Jr. back around midsummer, what's not to love about San Diego's chances?
St. Louis Cardinals
St. Louis has a shot to make a run. The Cardinals' +52 run differential stands as the fourth-best in the majors, and they're 16-11 at Busch Stadium. They rank top five in the MLB in runs, hits, and average, and second in stolen bases.
Veterans Paul Goldschmidt and Nolan Arenado have been sizzling at the plate, while speedy five-tooler Tommy Edman has enjoyed a breakout season. The only question marks with this club relate to pitching.
Is Adam Wainwright a full-season ace at 40? Can Miles Mikolas and Dakota Hudson remain serviceable No. 2 and No. 3 arms as the weather gets warmer? Will St. Louis make a move to solidify the backend of its rotation, which has been mired by injuries?
We'll see how the Cards are dealt, but there seems to be enough positives to warrant a modest long-shot bet.
AL MLB World Series Contenders
New York Yankees
What's not to like about the Yankees at +450? The Bronx Bombers sit atop the majors in home runs with 83, led by MVP front-runner Aaron Judge and his MLB-leading 22 homers, .677 slugging percentage, and 1.059 OPS (Judge also leads the AL with 46 runs, and his .315 batting average ranks eighth).
The Yanks can win on the mound, too, though. At press time they hold the MLB lead in ERA (2.74), WHIP (1.04), and OBA (.210), and they've allowed six fewer homers than any other club (38).
They were the first squad to reach 40 wins this season (40-15), and they're 23-7 at home. If injuries don't rear their ugly head like they always seem to for Aaron Boone's squad, we could easily see pinstriped players hoisting the Commissioner's Trophy this fall.
Houston Astros
Entering into the Top 3 is none other than the Houston Astros, who have once again cemented themselves atop the AL West standings. The 'Stros are once again one of the most dominant teams on both sides of the ball, with the offense being led by Yordan Alvarez, who has cranked 17 homers and sports a very impressive .311/.402/.628 slash line.
Their pitching has also been quite good this year, with 39-year-old Justin Verlander looking like he hasn't missed a beat. Even the loss of Carlos Correa was not able to hamper this rock-solid roster, and they're now back amongst the big boys.
Toronto Blue Jays
Blink and you might miss Toronto at +1000, as Charlie Montoyo's young squad seems to finally be firing on all cylinders. They've won 10 of their past 12 games, and Vladimir Guerrero Jr. leads a fearsome fivesome of a core lineup that nobody will want any part of in October.
The Jays can pitch, too – their rotation of Kevin Gausman, Alek Manoah, Jose Berrios, and Yusei Kikuchi could wreak havoc if they all remain healthy and click at the same time this fall.
Top MLB World Series Sleepers
Boston Red Sox (+4000 at Caesars Sportsbook)

As hard as it is to name another AL East squad, these odds are too intriguing to pass up. The Sox bats have awakened just in time for summer. In fact, every part of their slash line leads the majors over the past month (.292/.356/.493), and their rotation looks much better than expected.
If Boston's bullpen can continue to improve (3.36 ERA/1.14 WHIP past 30 days), and GM Chaim Bloom makes some moves to aid the postseason push, there's no long shot with a better shot at the World Series than the Red Sox.
Cleveland Guardians (+8000 at Caesars Sportsbook)

Hey, I'm not saying bet the farm on this squad, but there could be something here. The Guardians started the season with a new name, then had seven home rainouts on the young season saw key players Franmil Reyes (right hamstring), Aaron Civale (left glute), and James Karinchak (right shoulder) deal with injuries.
Yet, they're fighting at 25-26, just 1.5 games back from a wild card spot. With veteran manager Terry Francona at the helm, perennial MVP candidate Jose Ramirez topping the AL with 53 RBIs, and ace Shane Bieber leading a promising young rotation, Cleveland has a punter's chance to make a postseason charge.
Understanding World Series Futures Odds
Sportsbooks will post odds for the World Series as early as the day after the end of the previous MLB Postseason. These odds are constantly adjusted throughout the offseason as players get hurt or are suspended or traded.
Once the season begins, title odds will change as often as daily as teams win and lose games and as players get hurt or suspended. Sportsbooks will also adjust MLB futures odds based on handle and liability to certain teams.
World Series futures odds will usually look like this:
This means that on a $100 bet, you'll stand to profit $210 if the Astros win the World Series. If it's close to the end of the regular season or during the playoffs and if there is a very dominant team, you might see that a team is has a minus sign (-) ahead of its odds.

This means that you would need to bet $120 to win $100 on a Dodgers championship.
How to Bet on MLB Futures Odds
There are a few different ways to bet on professional baseball futures odds. One way is by selecting the winner of the World Series. You're able to do this from basically after the final out of the previous year's World Series all the way through to next year's playoffs.
There are many other baseball futures markets to dive into as well, such as odds to win the National League and American League pennants, odds to win each division within both the NL and AL, and by taking the Over or Under on a team's total wins for the season. Some sportsbooks will also offer markets on player awards such as the MVP, Cy Young, and Rookie of the Year.
Where to Bet on the World Series
If you're in a state that allows mobile, online betting, make sure you know which sites are the best baseball betting sites. The best betting sites offer sharp odds, quick payouts and are safe and secure when it comes to depositing and withdrawing your money.