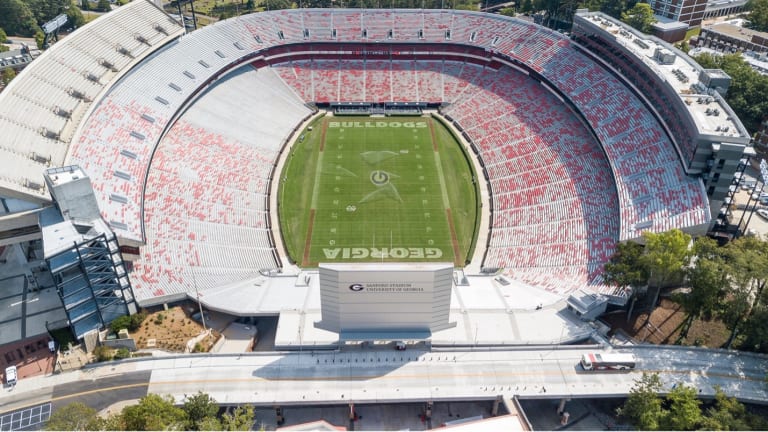 College Football National Championship Odds
Top 20 Powerhouses brought to you by OddsTrader
Georgia is the reigning national CFP champion but last year's runner-up, Alabama, is the favorite to win the crown this season. OddsTrader previews the Top 20 teams in the nation entering the 2022 college football season, and shares what to expect of each team's chance in the NCAAF Championship Futures market.
Remember, this is valuable time to lay down futures bets. Once week one's NCAAF odds are off the board, sportsbooks will adjust market prices as the season unfolds.
1. Alabama (+200) at FanDuel
The Tide is expected to roll once again as Nick Saban has a Heisman Trophy quarterback in Bryce Young returning for another bite at the CFP apple. And on the other side of the field, Alabama will welcome back linebacker Will Anderson Jr. who was a chaos-maker in the opponent's backfield manifesting in 17 ½ sacks, the most in the nation last season.
Although the Tide's receiving corps may not be quite as potent, the running game should be a force of nature with Georgia Tech transfer Jahmyr Gibbs carrying the rock while Georgia wideout, Jermaine Burton will be switching sides and providing Bryce Young another legitimate target.
2. Georgia (+350) at Caesars
The Bulldogs had so much fun thumping Alabama in last year's national championship they want to do it all over again. And it wouldn't be a shocker if they did, as the oddsmakers are making them the second choice to their SEC rivals from Tuscaloosa.
The Dawgs will also see the return of their man under center, Stetson Bennett, who will be 25 in October, and has more experience in the college game than many offensive coordinators.
Georgia will be grounding and pounding on offense while trying to reload after watching a boatload of talent getting shipped to the NFL in the form of a record-setting 15 Bulldogs being drafted last year. But Kirby Smart knows how to restock the shelves and the Bulldogs will be a force once again.
3. Ohio State (+500) at PointsBet
Despite an 11-win season, including a victory over Utah in the Rose Bowl, the Buckeyes underachieved in the eyes of many. Unless a Big 10 title and a trip to the CFP are on the resume, it's never enough for Ohio State fans.
But this season Jim Knowles will be taking over as defensive coordinator which was the focal point of the Buckeyes' woes last season. Quarterback C.J. Stroud will return after a tremendous season and will have a plethora of weapons at his disposal, chief among them, Jaxon Smith-Njigba.
4. Clemson (+900) at BetMGM
Most programs would consider a 10-3 season as a threshold for greatness but it was a soul-crushing disappointment for a program that had won the ACC six consecutive years, including a trip to the CFP in each of those seasons.
Last year's starter under center, DJ Uiagalelei, will be given a short leash to make a quantum leap from the erratic passer he was last year. If he falters, expect to see five-star blue chip freshman, Cade Klubnik, take the reins of the Tigers' offense. 
5. USC (+2500) at SugarHouse
Lincoln Riley departed Oklahoma for a new opportunity with USC and, needless to say, Trojan fans are euphoric.
Last season in Troy was totally forgettable but the oddsmakers understand the allure Riley has with the betting public and has made a 4-8 team in 2021, the No. 5 choice in 2022! Riley's dynamic freshman quarterback from last season, Caleb Williams, is also making the journey to LA where he will don a Trojans' uniform for his sophomore season.
6. Texas A&M (+2600) at BetRivers
Jimbo Fisher made heads spin with an historic recruiting class that led to a public spat with Nick Saban but if the Aggies can defeat the Tide for the second consecutive season, then they will have a legitimate chance to capture a national title.
Although the quarterback situation is still fluid, there is plenty of talent to go around and A&M is a solid value at +2600.
7. Oklahoma (+5000) at SBK
The Sooners lost their head coach and starting quarterback but the talent remaining is deep enough to get them into the preseason CFP conversation. Oklahoma watched two quarterbacks depart for greener collegiate pastures with Caleb Williams joining head coach Lincoln Riley at USC while backup Spencer Rattler dipped to South Carolina.
UCF's portal transfer, Dillon Gabriel, will take over the reins in Norman but this has all the trappings of a transition season, so beware.
8. Wisconsin (+8000) at Bet365
Tough on defense, soft on offense pretty much describes the Badgers' 2021 season and it could be more of the same this season.
Unless Wisconsin can find a few field-stretching wideouts, assuming returning quarterback Graham Mertz can hit those targets instead of tossing picks to opposing defenders, then we could see an uptick in the Badgers' offense. They will need more than a strong running game to light up the scoreboard.
9. Michigan (+6000) at Unibet
Head coach Jim Harbaugh has big holes to fill after a long-awaited Big 10 title and a seismic victory over archrival, Ohio State. Although the Wolverines were ousted in the CFP by the eventual national champions from Georgia, it was a satisfying season nonetheless.
Cade McNamara or J.J. McCarthy will be pulling the trigger on offense, and Harbaugh may choose to platoon both men. The Michigan offense will have to be even more lethal to compensate for a defense that has been depleted of superior talent, namely Aidan Hutchinson and David Ojabo.
10. Utah (+8000) at MaximBet
The Utes should return as the class champ of the Pac-12 unless runner-up Oregon markedly improves or USC suddenly coalesces into a college football heavyweight under Lincoln Riley.
If quarterback Cameron Rising can pick up where he left off last season then Utah will be the team to beat, especially with Tavion Thomas running the rock.
11. Oregon (+8000) at Caesars
The last few mental images Ducks fans have is their team getting crushed, 38-10, by Utah in the conference championship then bowing to Oklahoma in the Alamo Bowl.
Will they be better this year and can they take the next step? Well, it wouldn't be a leap to believe they will, especially with 14 returning starters, but whether Bo Nix can assimilate as the team's top gun from Auburn remains to be seen.
12. Miami Florida (+8000) at BetMGM
Mario Cristobal is returning to his roots at The U and Tyler Van Dyke will make an encore performance as the Hurricanes' passer. The running game should be stout and Van Dyke appears to have the chops to make things happen through the air if he can find chemistry with one or two of his new targets.
The defense needs work but if they can tighten things up on that side of the ball the Canes could surprise.
13. Penn State (+8000) at FanDuel
Injuries and a regressing offensive line were primarily responsible for Penn State's fall from grace after starting the 2021 season off by winning its first five games, including victories over Wisconsin and Auburn.
Quarterback Sean Clifford will have to improve but if he doesn't then there are several intriguing freshmen to assume the role. If the Lions don't get serious about scoring they will be in serious trouble as their defense isn't good enough to salvage wins by themselves.
14. Notre Dame (+8000) at Bet365
Isaiah Foskey and Jayson Ademilola are the fulcra of this Irish defense and their DC from last year, Marcus Freeman, is now their head coach. As we all know, Brian Kelly left abruptly for LSU located in the heart of SEC Country.
Quarterback Tyler Buchner has the benefit of a physical offensive line in front of him but other than tight end Michael Mayer, the verdict is out on his stable of wide receivers which could prove problematic to any national title aspirations. 
15. Ole Miss (+8000) at SBK
Lane Kiffin navigated his squad to a 6-2-mark in the treacherous waters of the Southeastern Conference last season. The Rebels' 10-3 overall record earned them the No. 11 team in the nation but a mass exodus of talent could make double-digit wins this season wishful thinking.
However, Kiffin did come up with a few gems out of the transfer portal as Jaxson Dart, formerly of USC, could provide the electricity needed to light up Oxford this year.
16. Tennessee (+10,000) at BetRivers
The Volunteers were vastly improved from their 2020 season as they ended last year with a 7-6 record including a narrow overtime loss to Purdue in the Music City Bowl. Fortunately, the pass-catch combo of quarterback Hendon Hooker to Cedric Tillman will be back thrilling the Knoxville faithful.
Hooker had an uncanny 31 to 3 touchdown to interception ratio last season and could be the bright light being overlooked in the SEC.
17. Oklahoma State (+10,000) at SugarHouse
The strength of the Cowboys' team last year was defense but that could change quite a bit after several defensive stalwarts exited Stillwater. It should also be noted that defensive coordinator, Jim Knowles, will no longer be at the helm having left to take the same position at Ohio State.
However, Brock Martin and Collin Oliver will return to anchor the defensive front while quarterback Spencer Sanders will have to be more creative on the offensive side of things if Okie State is to make noise this year.
18. LSU (+10,000) at MaximBet
Only six starters are returning from last year and the starting quarterback is still undecided with Garrett Nussmeier, Myles Brennan, and Jayden Daniels vying to replace Max Johnson who departed for Texas A&M.
However, the biggest offseason splash was LSU wooing Brian Kelly from Notre Dame to the heartland of college football, the SEC. Whether Kelly can forge a quick turnaround from a dismal 6-7 season remains to be seen.
19. Florida (+10,000) at Unibet
The running game is expected to improve in Gainesville with the addition of Louisiana transfer Montrell Johnson while former Arizona Wildcat, Ricky Pearsall, should amp up the passing attack as another sure-handed receiver for quarterback Anthony Richardson.
The offensive line will get tougher with O'Cyrus Torrence coming over from Louisiana but the defense is still expected to be the Achilles heel of this squad.
20. Texas (+10,000) at FanDuel
The Longhorns have been overshadowed by their neighbors from Texas A&M recently but don't discount the boys from Austin. Jahleel Billingsley is a talented tight end who left Bama to reunite with his former OC at Tuscaloosa, Steve Sarkisian, while Jordan Whittington could reach new heights this season as a thousand-yard receiver.
Factor in a pair of intriguing and talented prospective quarterbacks in Hudson Card and Ohio State freshman transfer, Quinn Ewers, and the Horns could hook themselves a Big 12 title.